My goodness. I had no idea that family game night would be the give away that would get you all excited. With 194 entries. Second only to the Twilight week that ended with 195 entries.


We seem to be having non-stop family game nights here. Game days. Game mornings. Because we got a wii for Christmas. We have been playing wii sports. Lots of tennis. Bowling. And I had no idea that I have mad boxing skills. We also have become addicted to Mario Cart. All thanks to Heather from Mindless Junque. So addicted that I HAD to buy a second wii remote. And so much that we are considering two more remotes. So that we can all play. And Michael and I keep playing after the girls go to bed. Is there a 12 step program for the wii?
But for you guys. The big winner of the semi-unplugged family night. That includes the two movies.
The read aloud book.
Blokus.
Snacks. And some hot chocolate. That lucky family belongs to Jori-o. Maybe you all can console yourselves by seeing if she'll invite you over. (Email me your address so that I can get all your goodies out to you!)
Over the past nine weeks there have been some amazing give aways. And I love all the new faces that I see here. But. Today is the last week of our weekend winners. And for our final give away...I thought we might revisit the past. And give again some of the greatest hits.
Week one was all about Wicked. With JenniferSusan as our winner. Let's add the Wicked soundtrack to the goodie basket.
(Oh, and one of my favorite Christmas presents was I got Pop-u-lar as the ringtone on my phone!)
Week two was in the pink. Jen won. And got a bonus goodie from Amazon in her box. For the week 10 winner, I have a Save the Ta-tas magnet for your car. And some pink spatulas for your kitchen.
Week three was all about Twilight. With the most entries - by one. And Sassy Stephanie won on her birthday. And you can now have the Twilight Barnes and Noble gift card.
So that you can read Twilight. Or whatever book you might want to read. Or buy a half off calendar. Or even some godiva chocolate.
Week four brought us the favicon and Mommy cards from Darcy. Michelle from Tales From the Lunchroom was the lucky winner. Who decided she did not need mommy cards - and she got a button instead.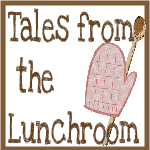 Isn't it cute? You can get yourself some office type things at Office Depot with another gift card added to the pot.
And on the
fifth week
of giveaways, my true love gave to me some sex and chocolate. With
Jen
(a different Jen. Hmmm...that is the third "jen" or variation on Jennifer to win. Veddy, veddy interesting) from Buried with Children as the big winner. And this week, you can have your cake. And eat it too.
The
sixth week
of winners was also rather pop-u-lar. With dvds for season one of Weeds and Lost.
Michelle
was our big winner this week. (Hey....that is two Michelle's. What are the odds of that?!) And guess what? I have another 1st season of LOST to add to the mix.
Ya'll must get caught up before the new season starts.
Week seven was all about Disney. And scrapbooks. I gave away a huge Disney prize pack to Darcy. And two mini packs. Those supplies came right from my shelf. Because I used to be a Creative Memories Consultant. This week's prize is an assortment of supplies.
An album. Some paper. Some hostess only goodies. I am not sure what will go in the box. But it will be at least $100 worth. And it will not be any of the items pictured above. Because they are all gone now.
Week eight was to have a night out. With the prize being dinner and a movie. Debbie from Finding Normal is looking forward to her night out on the town. And now you can go to dinner with your honey. Or your family. Or your best friend. Or maybe you just "vant" to be alone.
Whatever you choose - you can eat at a Darden restaurant - Red Lobster, Olive Garden, Longhorn, or Bahama Breeze.
And the surprise favorite week. Was week nine. With it's game, movies, book, and snacks. That have found a home with Jori-o. And now one of you will be the proud owner of the game Blokus.
And can add it to your family night repertoire.
To summarize - week 10 Weekend winner will receive: The Wicked soundtrack, a save the ta-tas car magnet, a set of two pink scraper/spatulas, Barnes and Noble giftcard, Office Depot gift card, some warm delights, LOST season 1 on dvd, at least $100 worth of scrapbook supplies, restaurant gift card, and the game Blokus.
Worth playing for? Here is what you need to do:
1. Post a comment here. If you could pick a week that you would have won, which would you choose? Have you ever won a prize from a blog or somewhere else? What have you won?
2. For another entry...follow me. If you already follow me, you also get an extra entry. Be sure to come back and leave a separate comment saying that you are a follower!
3. Blog about this week's contest.
4. When you comment you get an entry. When you follow, come back and leave another comment saying you follow me. If you are already a follower, post another comment saying that you are already a stalker follower. When you post about it...come back and leave a third comment saying you did it. Then I can truly use random number generator and I won't have to type in all those names!
5. Contest ends Friday (Jan 9th) at midnight. Winners have one week to email me to claim prizes. All unclaimed prizes will be added back into the pot. Winner will be announced next Saturday.

Theme song: Popular from the "Wicked" soundtrack. Because that is the song that launched our Weekend Winners.